Porcupine Mountains Trail Marathon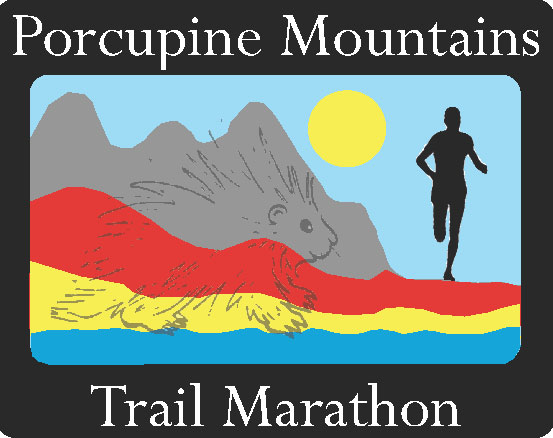 Marathon: The marathon starts in front of the Porcupine Mtns Ski Lodge and ascends the mountain via cross country ski trails to the Union Spring Trail and Aid Station 1 (5.5 miles). Runners pass Trap Falls before heading west on the Government Peak Trail. Runners arrive at Mirror Lake for Aid Station 2 (13.5 mi). The trail doubles back for a mile before joining the North Mirror Lake Trail, which takes runners on a climb up to Lake of the Clouds and Aid Station 3 (17.5 mi). Heading east on the Escarpment Trail runners will enjoy wide sweeping panoramas of the Carp River Valley and Government Peak to the South. The last aid station is reached at Cuyahoga Creek (21.6 mi) before runners return to the Ski Lodge via the Overlook Trail and XC ski trails. The course is well marked with colored flags, directional arrows, and mile markers. Half Marathon:The marathon starts in front of the Porcupine Mtns Ski Lodge and ascends the mountain via cross country ski trails to the Union Spring Trail and Aid Station 1 (5.5 mi). Runners head west and then turn north, following and elegant trail that descends along the Carp River into the Carp River Valley. Runners then ascend out of the valley to reach the Cuyahoga Creek Aid Station (9.2 mi) before heading west via the Overlook Trail and XC ski trails. The course is well marked with colored flags, directional arrows, and mile markers. 5KThe race starts and finishes at the Porcupine Mtns Ski Lodge and follows a scenic loop on the cross country ski trail system.Kids 2KThe race starts and finishes at the Porcupine Mtns Ski Lodge and follows a scenic loop on the cross country ski trail system. Parents may run with their kids.Event schedule and timesMarathon: 8:00 a.m. on Saturday, October 5Half-Marathon: 8:30 a.m. on Saturday, October 55K: 9:00 a.m. on Saturday, October 5Kids 2K: 10:00 a.m. on Saturday, October 5
Ready to race? Register now and enjoy your Porcupine Mountains Trail Marathon!
Registration Website:
Race Details
Name: Porcupine Mountains Trail Marathon
Race Date: Oct. 4, 2013
Address: Porcupine Mountains Wilderness State Park, 33303 Headquarters Road
City: Silver City
State: MI
Zipcode: 49953

Pricing
See registration page for pricing details
5K - Individual
Half Marathon - Individual
Kid's 2K - Individual
Race Links
Browse race
website
Sign up now through the
race registration
page
We don't have a link to the race results page, would you like to add
results
for this race?
Register